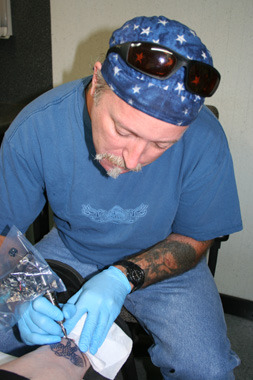 Paul is the owner of Ink Inc. Tattooing.

Ink Inc. Tattooing is Central PA's oldest and finest licensed tattoo studio. We have been in our current location since 1991. Folks who weren't even born at that time, are now old enough to get tattoos!

Paul is a second generation tattoo artist. No one in the area has more training or experience. Because Paul is an accomplished tattoo artist, with over 25 years in the business, he isn't still trying to figure out how to make a straight line...he is continuously striving to benifit the industry with new and improved methods of customer safety. Many of the regulations that have been put in place by the State College Health Dept, were suggested by Paul.

Paul works in many different styles of tattooing, and is capable of designing completely "one of a kind" custom tattoo designs based on your individual needs. No "cookie cutter" stuff here! Paul understands the power of symbolism and their psychological effects, and is well known for creating powerful graphics, utilizing the proper colors and symbolism to have the maximim impact.

At this time, paul mainly works at Ink Inc. Tattooing, but has traveled extensively to do tattooing in the past, and will do so again, if the hosting studio can meet his high standards.